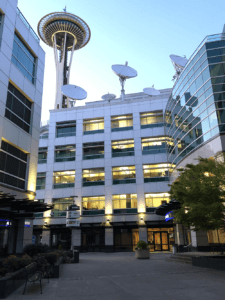 Sorted Solution has secured cabinets at a colocation facility at the KOMO Center in Seattle for our client's to host their servers.
The colocation facility is a dedicated data center with redundant Internet connections (this is where all Internet providers connect to the Internet backbone together in the North West), redundant power including diesel generators, and top notch security (multi-tiered 24×7 security guards, government ID required, biometric fingerprint scanning) and locked cabinets. The KOMO Center is located across the street from Seattle's Space Needle and is where King County has designated it's emergency communications hub during a disaster.
If your firm is interested in exploring having your servers hosted in a secure and redundant environment, please contact us to discuss.
What is colocation?
Data centers offer colocation, which allows you to place your servers and other IT equipment in a high-speed Internet-connected location that is secure and redundantly powered. Colocation offers many advantages over hosting your IT infrastructure locally. These include higher up-time and better network performance, lower costs of operation, greater capacity expansion, and better up-time. Sorted Solution offers managed colocation services and hybrid cloud/colocation options.
There is room for growth
With colocation, your IT infrastructure can be expanded quickly to meet the needs of your business, and it will require less investment. If you need to expand your bandwidth suddenly, this is immediately possible in data center. You could be waiting weeks, or even months for your local cable company or Internet provider to increase your bandwidth. Colocation facilities allow you to access massive and redundant bandwidth in minutes or hours. This is more than a normal office cable Internet connection.
Maximize your uptime
Downtime can have serious consequences and costs. Businesses that experience downtime are unable to provide services to customers.
Colocation data centers offer multiple backups and disaster recovery options to ensure services are available during power outages or other unexpected events. Your IT infrastructure can be hosted in redundantly high-speed Internet connectivity using colocation services. Our facility is powered by both industrial UPS batteries and diesel generators on-site for emergency backups.
Cost Savings
It is possible to manage an in-house IT infrastructure and pay more for it than renting space at a colocation center. Colocation services plans offer a complete package that includes support, security and connectivity. They can be bundled or at a reduced price than on-prem hosting.
Security and Compliance
The physical security of your equipment is what colocation services leverage. Colocation gives you peace of mind because the facility is protected with video surveillance, on-site guards 24 hours a day, as well as biometric access to the data center, combination cabinet access, cage access by key, and other security measures. Colocation will ensure that facilities meet international compliance requirements. Data centers are subject to independent and thorough audits every year of our control activities, including data center standards like ISO 27001, PCI DSS, ISO 9001, and SOC2.
About Sorted Solution
Sorted Solution IT consulting services offers a comprehensive suite of technical consulting expertise to improve your business workflow. We understand your need for maximum efficiency and reliability at the best value possible. Regardless of your industry, we have the consulting solutions for your technical needs.
In the Cloud
Moving certain components of your IT infrastructure into the cloud can have real benefits to your business. Infrastructure flexibility to scale-up or down on-demand, reliability and disaster recovery, reduction of hardware costs, remote access and increased collaboration within workgroups are some of the benefits.